Planning our trip to Sri Lanka started off about 4 years ago, triggered by a suggestion that we should have a  20-year high school reunion.
For those of you who didn't know, I lived in Sri Lanka for a couple of years. My father managed at a textile factory - between 1994-96 - so we got to experience an expat life for a while; had a maid, driver and gardener - I know, right!!; went to an international school... and that was 20-years ago, hence the reunion.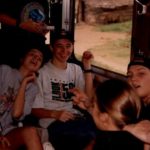 The strange part about living somewhere - as opposed to taking a holiday somewhere - is that you don't experience all the tourist attractions of that country.  In Sri Lanka, my dad worked long-ish hours, my sister and I were in school, so our weekends were a time to socialise or relax - we'd end up going to the swimming club or drive down to Bentota beach. We did do various tourist things, but didn't explore the island as a whole.
With the reunion announced, we decided it would be a great opportunity to "do Sri Lanka properly".  Originally we planned on a 6-month trip, (where I'd work remotely from over there), but with kids school and other commitments, the logistics were getting complicated, so we scaled it right back and agreed on a month long trip during the school summer holidays.
We'll tell you all about our itinerary in the next post.